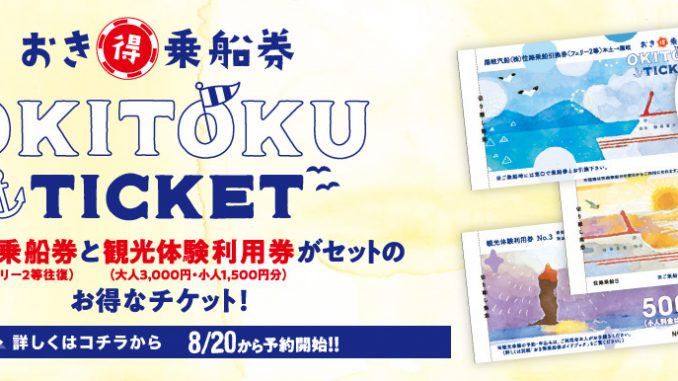 Buy a standard ferry round-trip ticket (2nd class) between the mainland and the Oki Islands at ¥5,940 (adult) or ¥2,970 (child), and get 50% of the fare back in coupons which can be used on all four of the Oki Islands. Coupons equal ¥3,000 for an adult ticket or ¥1,500 for a child ticket, and may be used at tour and sightseeing locations around the islands (sightseeing boats, buses, taxis, marine sports, bicycle rental shops, etc.). This is a value equivalent to receiving 50% cash back from the ferry fare.
Duration: 1st September – 31st October (limited to 1,000 tickets)
N.B. The ferry ticket and coupons may be used for 7 days from the start date.
Notice of Use:
1. Unused tickets or coupons will not be refunded.
2. Return tickets (from the Oki Islands to the mainland) may be used from the day after the start date.
3. A separate ticket must be purchased for travel between Dogo and Dozen Islands.
4. A separate ticket must be purchased for the fast Jet Rainbow.
5. Please contact each relevant location directly to make a booking.
6. There will not be any change given in cash should a purchase price be less than the value of the coupons.
7. Ferry tickets and coupons may only be used by the purchaser, and may not be handed over to another travel partner (including family members).
8. Ferry tickets and coupons cannot be reissued due to loss or theft.
Enquiries:
Okikisen: Tel. 08512-2-1122
Oki Islands Tourism Association: Tel. 08512-2-1577
Ticket Offices:
Okikisen Shichirui Port or Sakaiminato Port Ticket Offices
Ichibata Travel Service Sales Offices
More Details on Oki Islands Tourism Website (Japanese only)
http://www.e-oki.net/