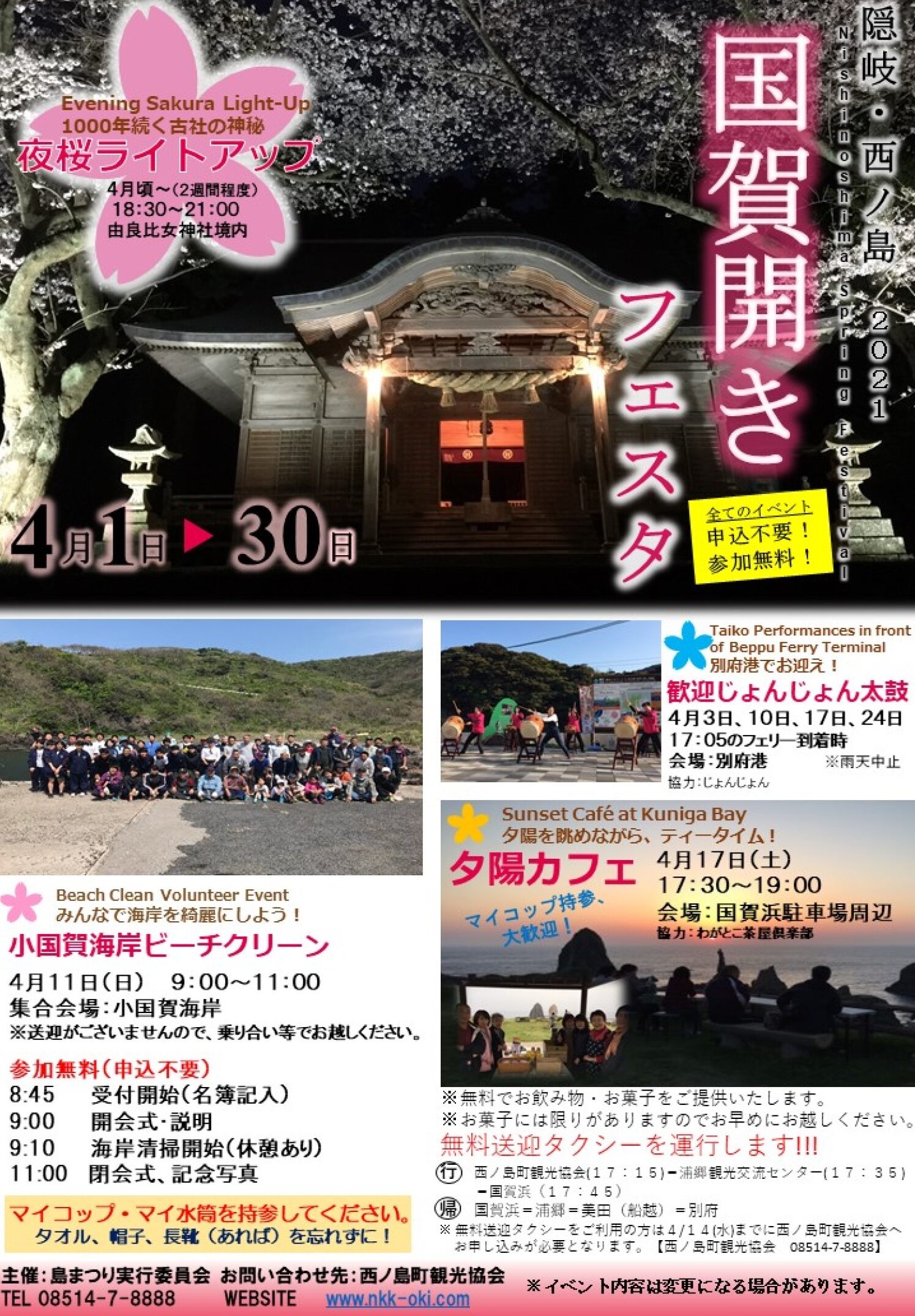 Annual Spring Events on Nishinoshima Island!
During April there are a number of events to look forward to at various locations around Nishinoshima Town.  Come and enjoy our events!
Evening Cherry Blossom Viewing Light-Up at Yurahime Shrine
When:  From the end of March for about 2 weeks during sakura season
Welcome Taiko Performance
When:  5:05 pm Every Sat (this aligns with the 5:05 Ferry Shirashima arrival)
Where:  In front of Beppu Port Ferry Terminal
Sunset Cafe at Kuniga
When:  17th April (Sat) 5:30 pm – 19:00
Free pick-up from Beppu Port to Kuniga Bay car park.  As the number of seats are limited please make a prior booking if you require a pick up.  Enquire at Nishinoshima Tourism Association.
Beach Clean Event
When:  11th April (Sun) 9:00 – 11:00
Where:  Kuniga Bay
For details on the location please enquire at Nishinoshima Tourism Association.
Free Give Away!
Get Beautiful Postcards of Nishinoshima, FREE!
Please help us promote beautiful Nishinoshima by uploading posts on your SNS including various hashtags e.g. #NishinoshimaIsland #OkiIslands #MatengaiCliff etc.  Then show your post at Nishinoshima Tourist Information center on Beppu Port and you will be gifted with a set of 5 postcards! 
★Free postcard give away event is offered all year round★
Nishinoshima Tourism Association TEL 08514-7-8888