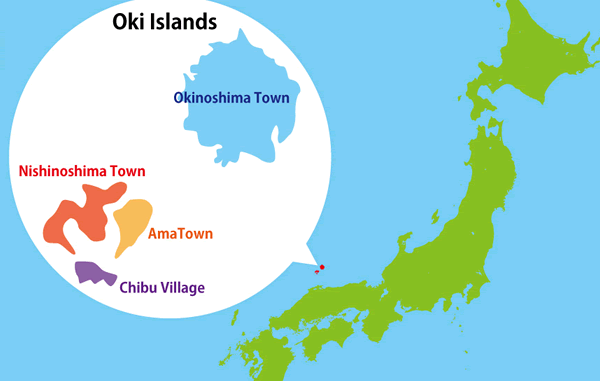 Explore Unfamiliar Japan
Escape to the Oki Islands!
Welcome to the Oki Islands! Nishinoshima Island is a great place to take a step back in time, explore rural Japan, meet locals, be amazed by the power of nature, sample seafood delights and of course…relax! The massive sea-eroded cliffs and strangely-shaped rocks of the Kuniga Coast are an unforgettable must-see location. This spectacular rugged coastline is softened by pastoral vistas of cows and horses which graze peacefully upon the mountaintops. We hope you enjoy escaping to the Oki Islands!
NISHI = west
SHIMA = island
Nishinoshima is the western-most island of the Oki Islands group.
We are proud to be part of the Oki Islands UNESCO Global Geopark.
Most of this island is also included in the Daisen-Oki National Park.
Area
55.98km2
*Most of the town is within the borders of Daisen-Oki National Park.
Population
2,609 (January 2023)
Cows
600
Horses
50
Industry
Fishing, Agriculture and Tourism
Specialties
Squid, Rock Oyster, Turban Shell, Abalone, Rainbow Scallop, Yellowtail, Mackerel…
History
Islands of Exile – Emperor Godaigo and other nobles were banished here
Makihata – traditional stock and crop rotation method used since the Middle Ages
Kitamae-bune Trading Ships – bringing products and culture from around Japan
Oki Kisen Line – started by the priest of Takuhi Shrine using an old British steam ship
Best Season
Spring – autumn
We look forward to meeting you at the tourism association (tourist information center) located in the port building. We have English maps and pamphlets available.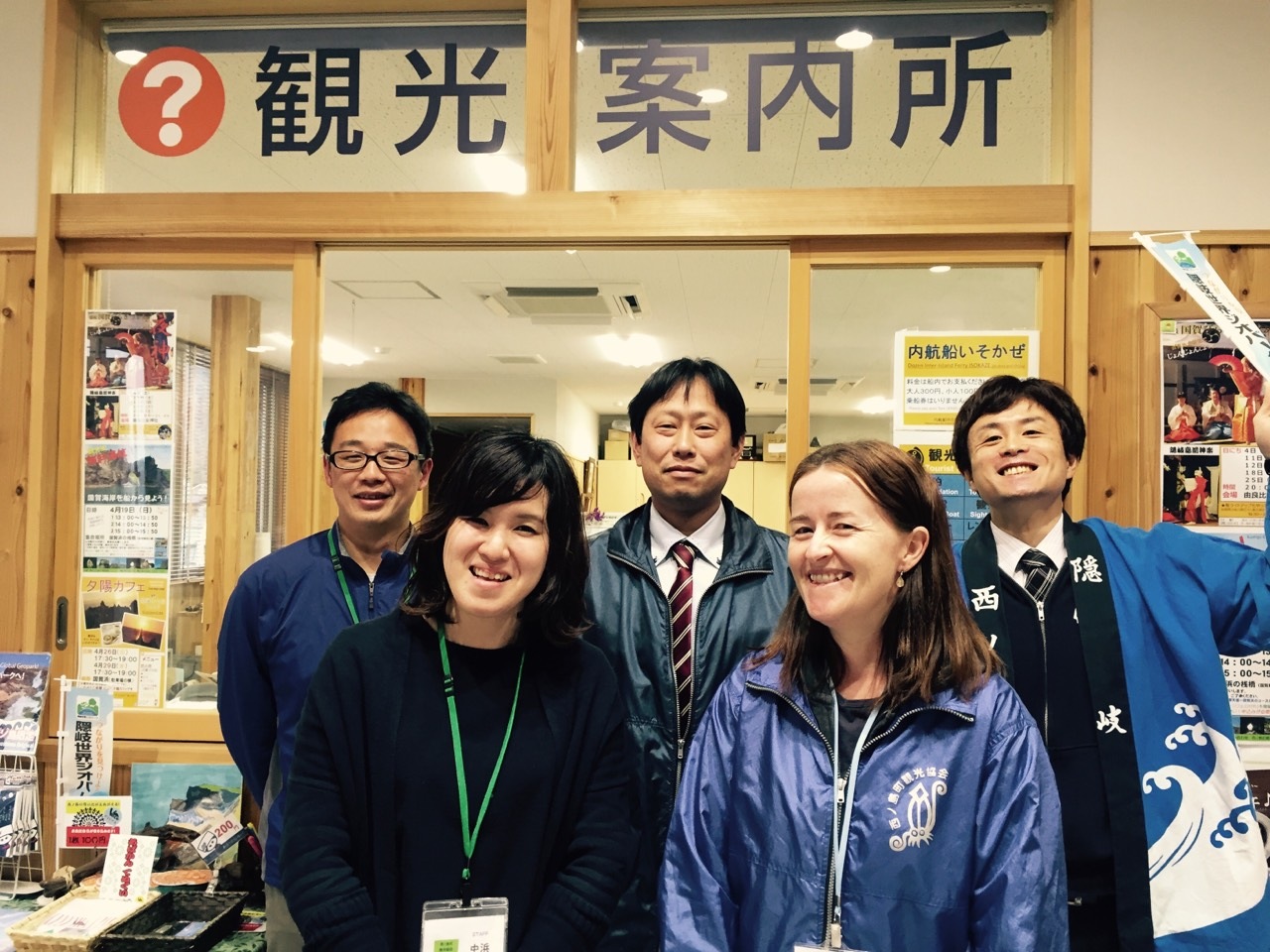 Nishinoshima is not a small, flat island, so you will need to do a little planning if you want to make the most of your time here. The tourism office has rental bicycles, there is a rent-a-car company nearby (make sure you have a valid license to drive in Japan) and taxis are also available. The local town bus goes to the Kuniga Coast several times a day from April – October. If you like to walk long distances, there are many places you can go and there are also two popular hiking tracks on the island.
There are minshuku, ryokan, hotels and log cabins on the island, as well as two campgrounds. Make sure you book in advance as accommodation can fill up very quickly during long weekends and holiday season.
Activities that visitors from overseas enjoy include sea kayaking, swimming, snorkeling, scuba diving, hiking, fishing, fabric dyeing, cycling and trying some of the local seafood delicacies. There is something for everyone here in Nishinoshima. Locals will do their best to make you feel at home.
Enjoy exploring unfamiliar Japan in this off-the-beaten-track destination.